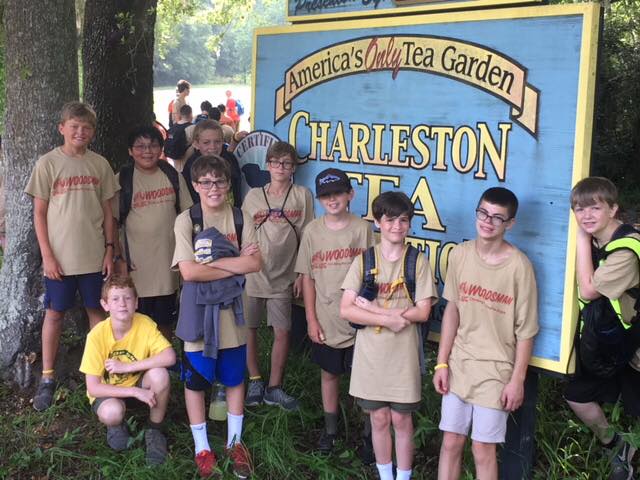 Friday, June 15
10:40am
Dear Mom and Dad,
You've probably noticed that I haven't written in two days.  I've been pretty sick, but you will be proud of me for sticking it out and not asking to come home.  I won't go into many details, but I weigh a whole lot less now than when I got to camp.  It go so bad that I was worried I was going to pass out in the shower and somebody had to come check on me.  Dr. Dunbar and Mr. Howard (the camp medic) told me I should go to urgent care, and Dr. Dunbar took me there.  They gave me two bags of fluids and took lots and lots of blood.
When I came back to camp, I got to sleep in the AIR CONDITIONED health lodge all night long.  There was also a bathroom in the health lodge, and honestly, that was better than the air conditioning.  I haven't eaten anything since lunch on Wednesday, but I'm going to to start eating crackers today.
I came back to camp about 30 minutes ago, and my roommate had moved out of my tent.  I tried hard not to cry….
🙁
Lots of my friends have been taking pictures and telling me what has happened over the last few days, so I'm going to do my best to give you a good idea of what's been going on with all the other first years even though I may not have actually participated in everything I am about to tell you.
We left for the Charleston Tea Plantation on Wednesday morning.  It was hot, but it wasn't too bad.  We had to hike along the road, for a long way, but we stopped for water breaks twice.  The tea plantation was really neat.  I just assumed that iced tea came out of a metal container at McDonalds, but now I know it comes from a bush!  We toured the plant that turned the picked leaves into tea leaves ready to use.  We had a picnic there and then we walked home.  The only bad thing was that we all missed pizza in the dining hall that day.  Oh – and we all got a special Woodsman t-shirt that we wore on the hike!
The Troop 1 boys beat Troop 2 for the basketball championship Wednesday afternoon during siesta. Walter Montgomery scored the final goal for Troop 1!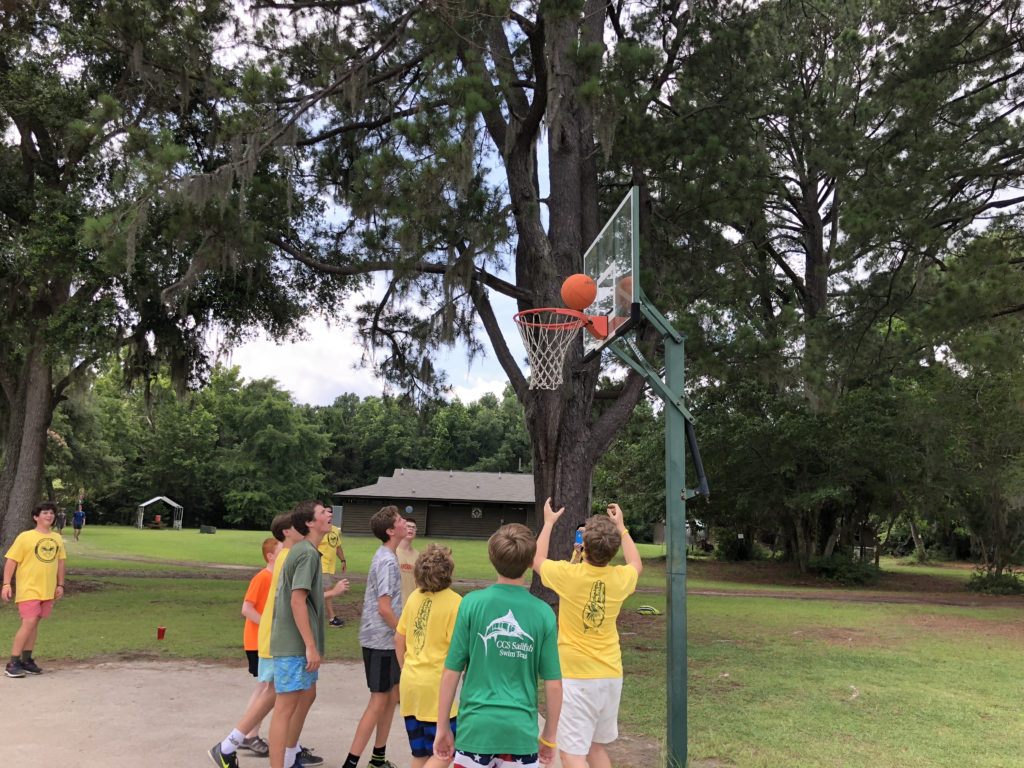 The big ultimate frisbee game between the counselors and Troop 1 is tonight.  The counselors haven't beaten us in three years!
We had an inter-denominational church service on Wednesday night, and Wonderland delivered the message.  Dr. Lawton said that Wonderland's real name is Ellis, and he's an engineering student at Clemson whose been working at Camp HNW since he was in high school.  The chapel was beautiful.  Mom and Dad, I know that isn't a word guys use a lot, but it overlooked the marsh and I can't think of anyplace more peaceful in the whole world.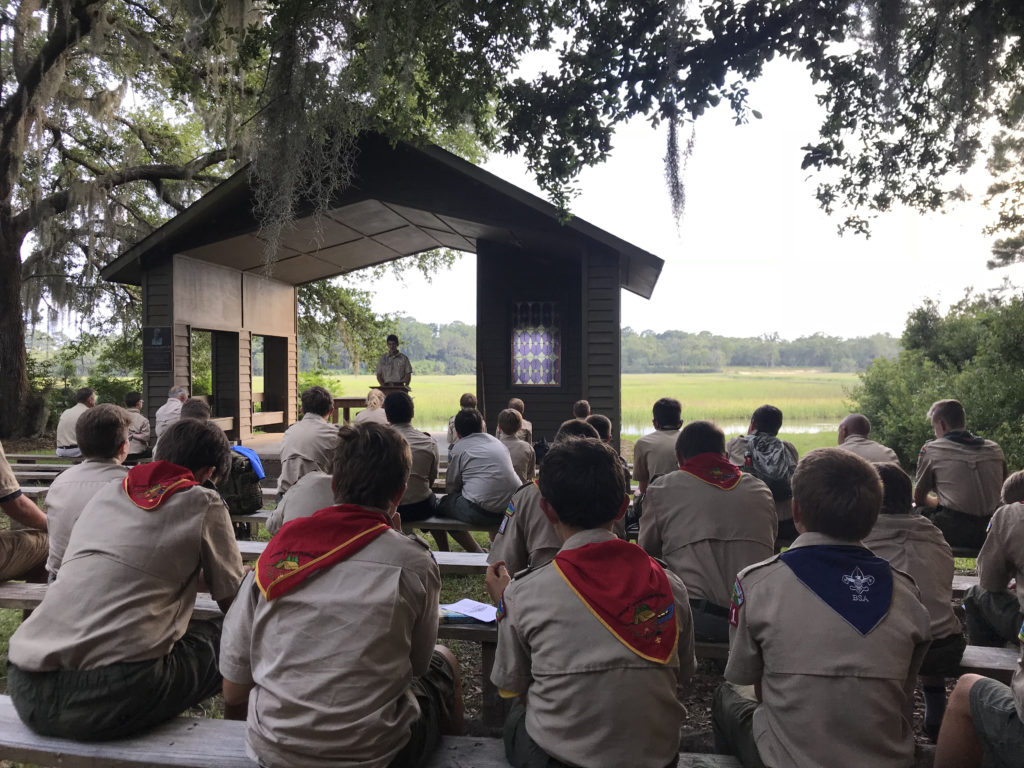 The Woodsman program has been really good.  I am a Tenderfoot now!  I had to learn lots of knots, the Scout Oath and Law, and a whole bunch of other stuff.  It was hard, but Will Lawton helped us for hours so that we could get everything down.  I passed my Scoutmaster conference with Mr. Gage and then I passed my Board of Review with Dr. Dunbar.  Now that I have earned the rank of Scout and Tenderfoot, I'm almost done!  Second Class, First Class, Star, Life, and then Eagle!!!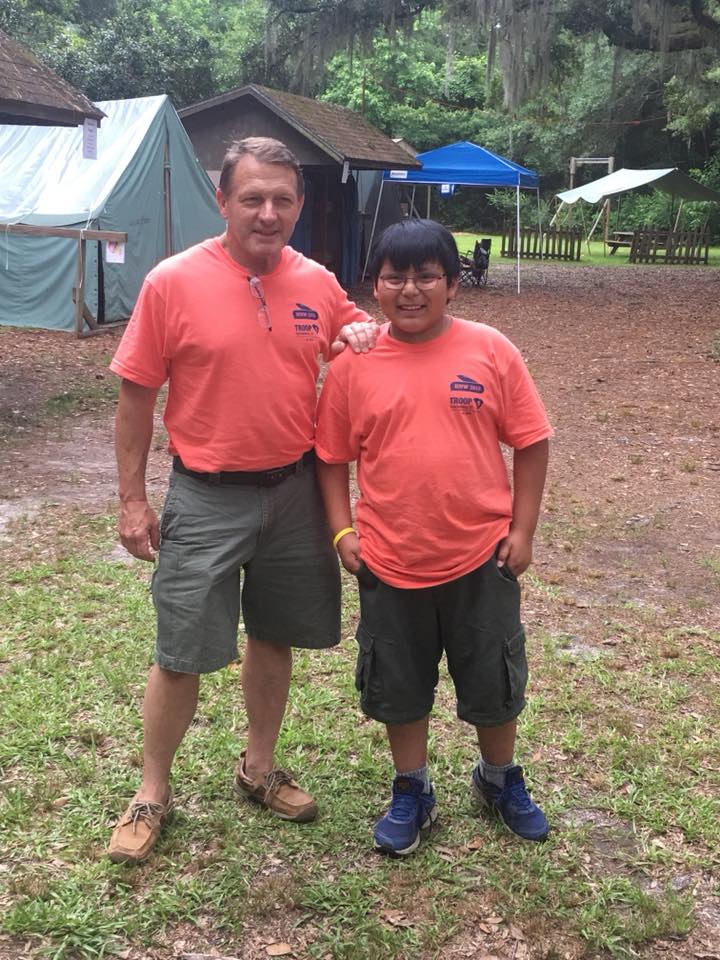 Yesterday, the Woodsman got to cook our own lunch!  We chopped up lots of vegetables and cooked a stew.  You might want me to make it for supper sometime when I get home!
The older boys in Cooking merit badge made a real meal, too, and Will Lawton had to sleep in the woods last night in a shelter he made for Wilderness Survival.  Shannon ended up helping the counselor in the Space Exploration when they couldn't figure out how to launch the rockets.  I bet everybody at Oakbrook would be really proud!
We had a big campfire last night with a tap-out for the Order of the Arrow.  Charlie Millinor was the only boy in Troop 1 to get tapped this year.  The ceremony was really neat, with lots of older boys dressed up in Native American dress and the moon was rising over the river behind us.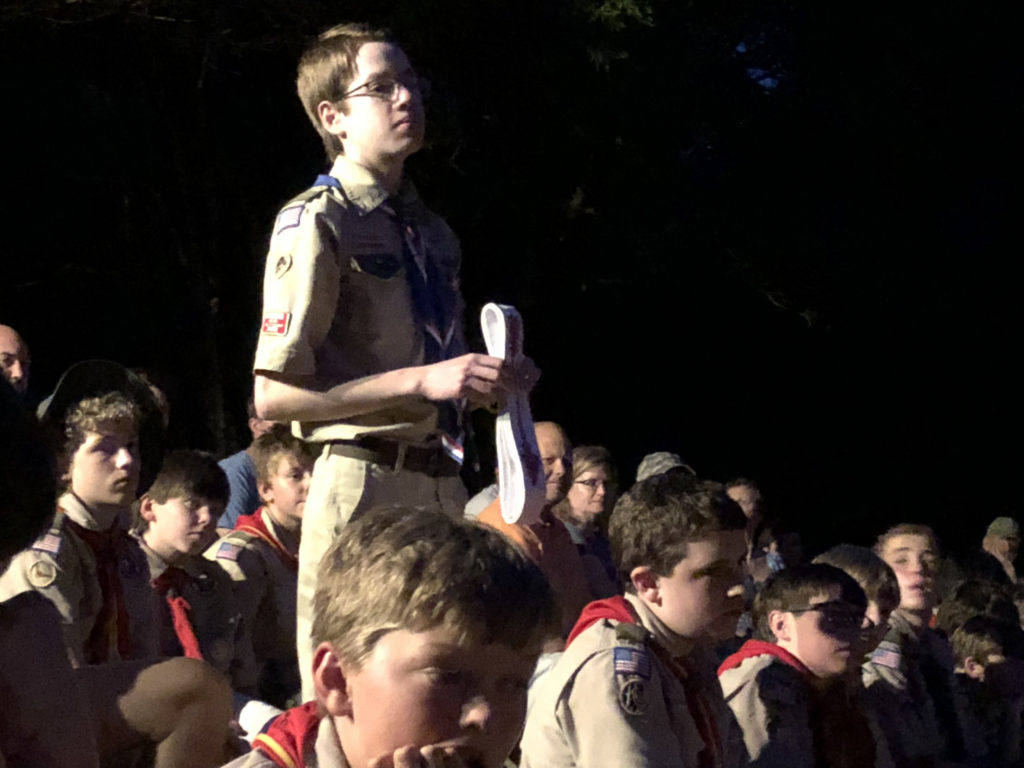 Troop 1 got to raise and lower the flags this morning before breakfast.  That made me be proud to be in the Boy Scouts and to be in Troop 1!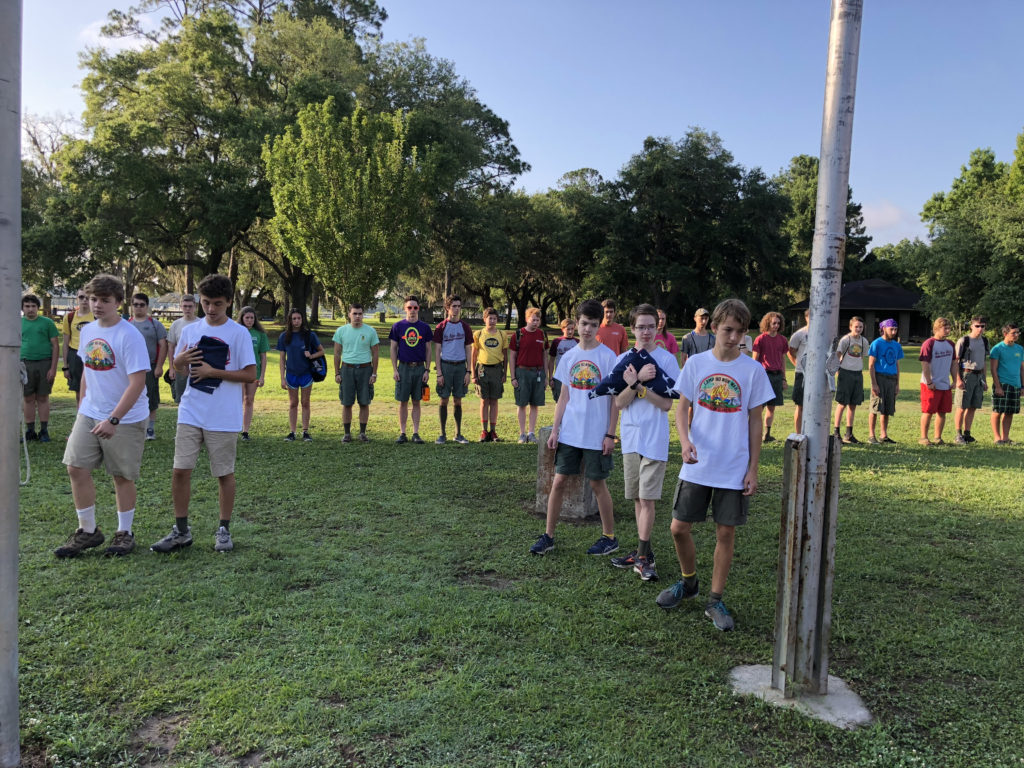 Today is a make-up day for anyone who didn't finish their requirements for merit badges.  I have to finish one of my leatherwork projects, but other than that I just get to play.  We have cheeseburgers for supper and then another campfire.  The Camp HNW staff will give out awards, and we'll give Troop 1 t-shirts to our favorite counselors.
After that will be the big ultimate frisbee game!!!  I bet you'll be able to hear the cheering and screaming all the way in Spartanburg.
We'll stop by Rush's tomorrow for lunch, but I don't think that I'll eat anything.  Maybe you'll let us make a special trip there sometime this summer so I can have a cheeseburger and a milkshake.
Even with being sick, I've had a great time.  I'm already starting to miss this place.  I'll see you tomorrow!
Lots of love,
Your son and Tenderfoot Scout
P.S. – I am putting this in the mailbox before I eat my first saltine cracker… because I'm not sure what is going to happen after that.