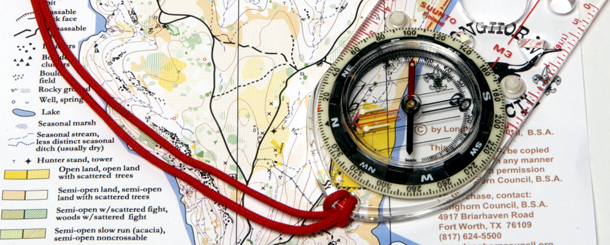 It's time for the GPS campout!
May 1-3, 2015
Sign up for the trip (using the form below) by Monday, April 27th.  New scouts (and dads) are welcome!
Scouts will be assigned to a patrol team when they receive the coordinates on Tuesday afternoon.
Research and determine the characteristics of the location and the find best way of getting to the coordinates by whatever resources you can come up with.  Hint – Your friend Mr. Google can be a lifesaver!  Get together with other members of your team at the scout meeting on Tuesday (April 28th) and come up with a plan.
Be at the scout hut by 3:45 on Friday to leave with your team.  Each team should have a GPS unit.  Adults on your team will have no clue as to how to get to the destination.
You must determine what you will need for the weekend by researching the location of the coordinates. For example, if the coordinates lead you to Lake Tahoe, you can assume you will need your snow skis and a very warm sleeping bag.
You must have food and provisions for the area you will be going. You will need food for Friday night, Saturday breakfast, Saturday dinner and Sunday breakfast.   The troop will provide lunch for Saturday at a waterside restaurant (and also lunch on Sunday, all dependent upon the distance we need to travel).  You will need your own cookware and stove. Plan your shelter based on the location.  Pack based on the terrain you expect to travel.
All BSA rules (such as safety precautions) must be followed.  When traveling in a car or plane, you must wear a seat belt. A life jacket must be worn in a boat at all times, and a helmet must be worn if traveling on a motorcycle or snowmobile. No sky diving or hang gliding allowed. You must be certified in order to SCUBA dive. You may climb or repel by rope if all safety precautions are observed.
Cost for the weekend will be $35.00 per person, and the deadline for getting your name on the list is Monday, April 27th.  Space is very limited due to transportation limitations so sign up ASAP to make sure you are in.
This is it. This is all the information you will get except for the GPS coordinates on Tuesday afternoon in an e-mail. Good luck!
Scouts (32)
Adults (13)
James B.
Will B.
Jack C.
Ross F.
Max G.
Langston G.
Rob K.
Bern J.
Chris J.
Spencer L.
Drew L.
Will L.
Robert L.
Hank L.
Henry M.
James M.
Banks M.
Will N.
Aidan P.
Colton P.
William P.
Mac S.
Burd S.
Graham S.
Ross S.
William S.
Barton S.
Kent S.
Allen T.
Brownlee W.
Hank W.
Nicholas W.
Eric Foust
Ted Gage
Bryan Goldman
Bryan Green
Michael Lawter
Boyce Lawton
Ed Miles
Mark Mullen
Chris Nowatka
Tim Satterfield
Scott Scheel
Bill Schwartz
Paul Switzer