Johnson Pavilion/Lake Bowen
Friday Evening – April 21sr
A full night of scouting! A Troop 1 "Culinary Team" special dinner will be served.
The cost is $8.00 per person.
Dinner is at 6:oo p.m. and a Court of Honor will follow.
Please make every attempt to be a part of this important event for our Scouts. Crossover is for the entire family and we hope to have a great turnout. Older scouts are encouraged to camp to show our new guys the ropes. Cubs and Webelos with parent or guardian are invited to camp also. Traditionally our new first year dads will be cooking breakfast Saturday morning for all overnight campers.
(register and pay using form at the bottom of this page by Wednesday, April 19th)
Optional Fly Fishing Merit Badge and Saturday Evening – April 22nd-23rd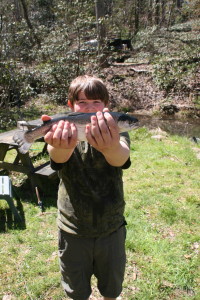 Fly Fishing will be the name of the game on Saturday after the Crossover! Scouts that sign up for this optional add-on to Crossover weekend will complete all of the requirements for the Fly Fishing Merit Badge under the direction of our Fly Fishing expert, Rick Phillips.
We will begin Saturday morning at our Lake Bowen campsite with the classroom portion of the badge. After lunch it will be off to a private pond near Saluda where scouts will learn more techniques of fly fishing and then get to reel em' in. After an afternoon ice cream stop in Saluda we will head back to our camping spot on Lake Bowen to cook our catch for dinner before spending another night under the stars.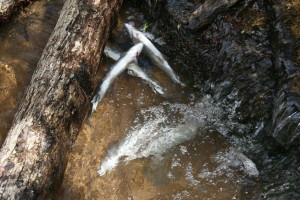 The cost for this adventure will be $30.00 per scout (adults $15.00) and includes all meals from lunch Saturday through Sunday breakfast. Scouts will be returned to the scout hut Sunday morning about 10:00.
(register and pay using form at the bottom of this page by Wednesday, April 19th)
Directions to Johnson Lake Pavilion from Spartanburg
199 White Oak Rd., Inman, SC 29349
Take I-26W to Exit 10 (Hwy 292) and take a right off ramp
Turn left on Miller Farm Rd. in front of the Hot Spot
Go 7/10th mile to Edwards Rd. and turn Right
Go another 7/10th mile to White Oak Rd. and turn left
White Oak Rd. goes into the gate to the Barbecue shed