Thursday, 10:20 pm
Dear Mom and Dad,
There's only one more full day of camp!  I can't believe the week has gone so quickly!  I finally stopped feeling homesick (I didn't want to tell you that earlier), so I hate to think about leaving.  I'm thinking that I should probably stay up really, really late tonight so that I don't miss a chance to have more fun.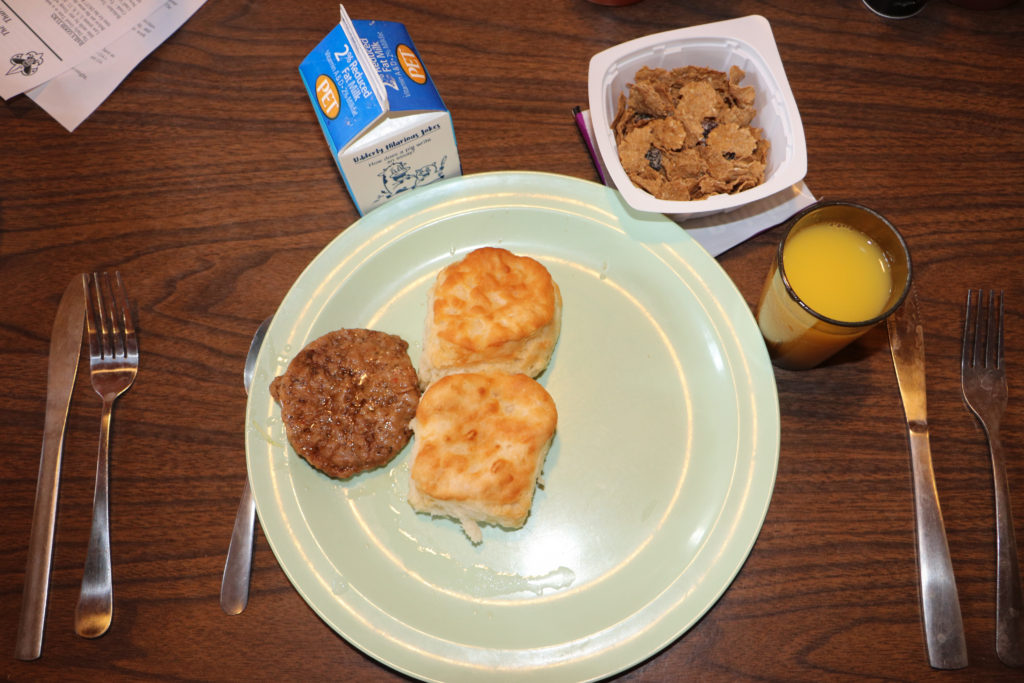 We started the day with sausage biscuits!  That made 9 out of 11 meals where I ate a pig!  I squashed my sausage patties in several napkins before I ate them.  The napkins were SOAKED in grease!  I'll probably live a few more years just because I didn't clog my veins up today!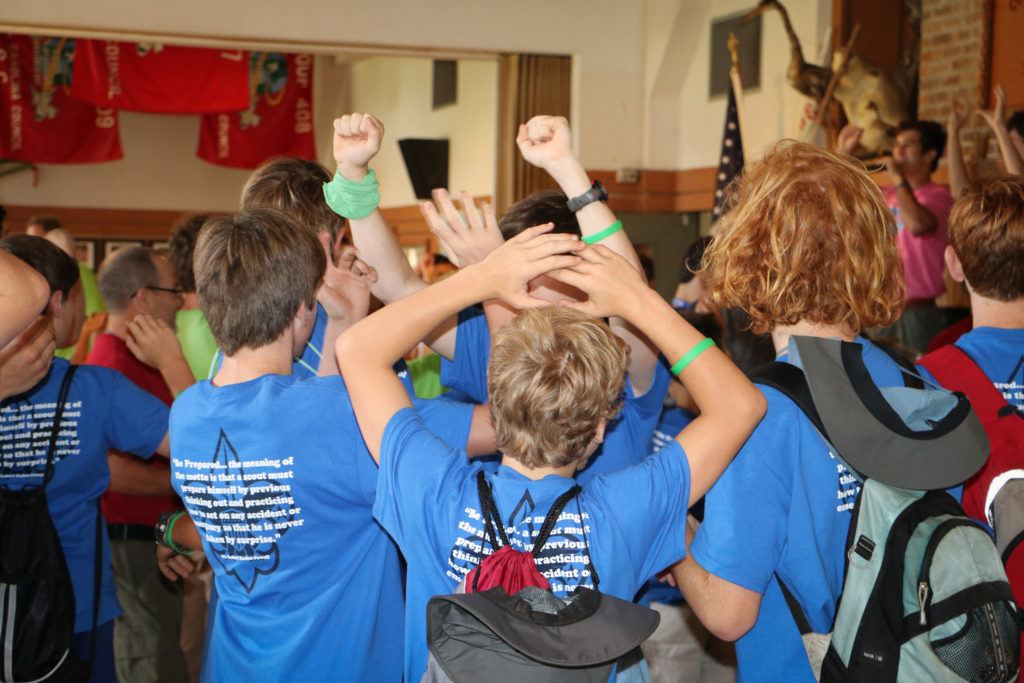 Our waiters' clap is getting really long!  We add a new thing at the end of every meal, which means we'll have to do 14 things tomorrow morning!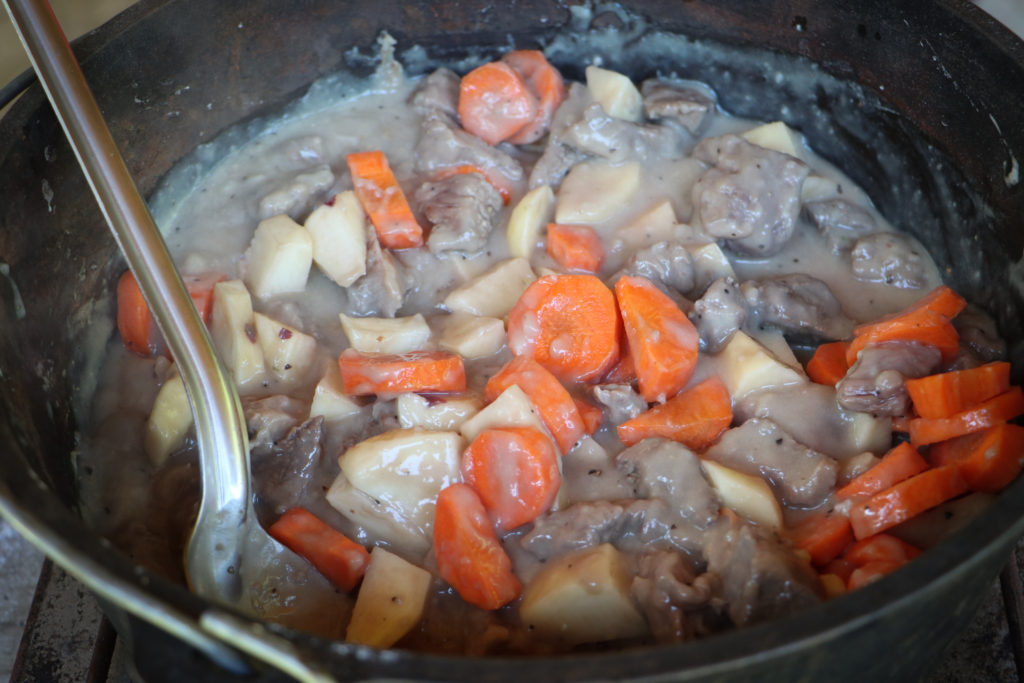 All the Woodsmen cooked beef stew today… I don't know about you, but I wasn't so thrilled about eating that!  It sure didn't look like Grandma's beef stew!  Douglas Reid ate two bowls and said he really liked it, but I remembered that I could last for 30 days without food!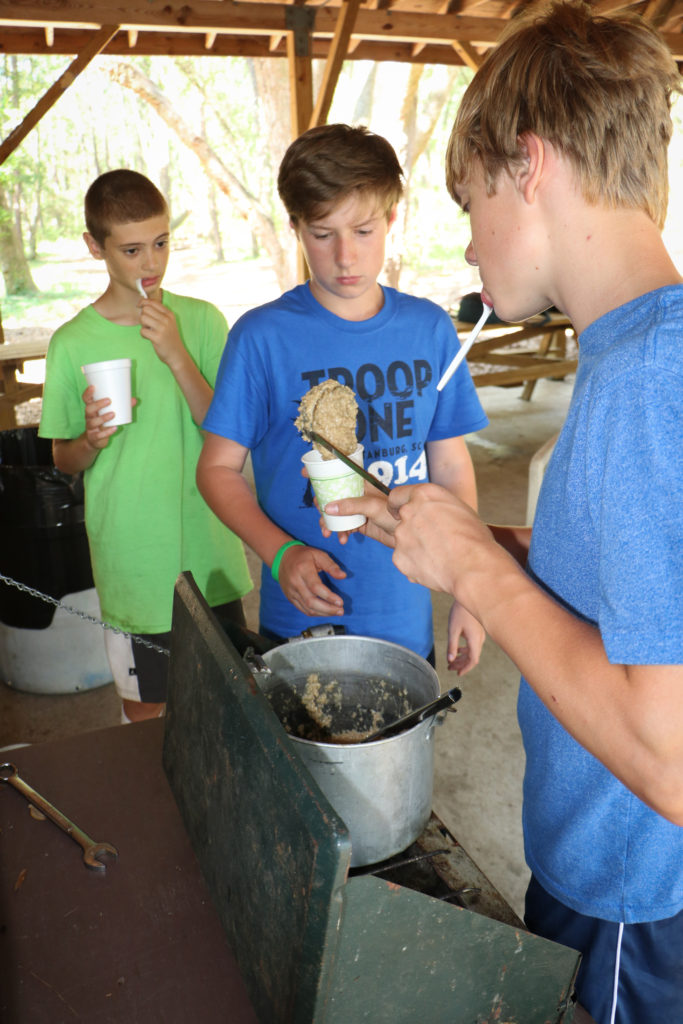 Jack Krydynski told me that he cooked his breakfast and his lunch in Cooking merit badge today.  I bet that looked AND tasted a whole lot better than what I had to eat!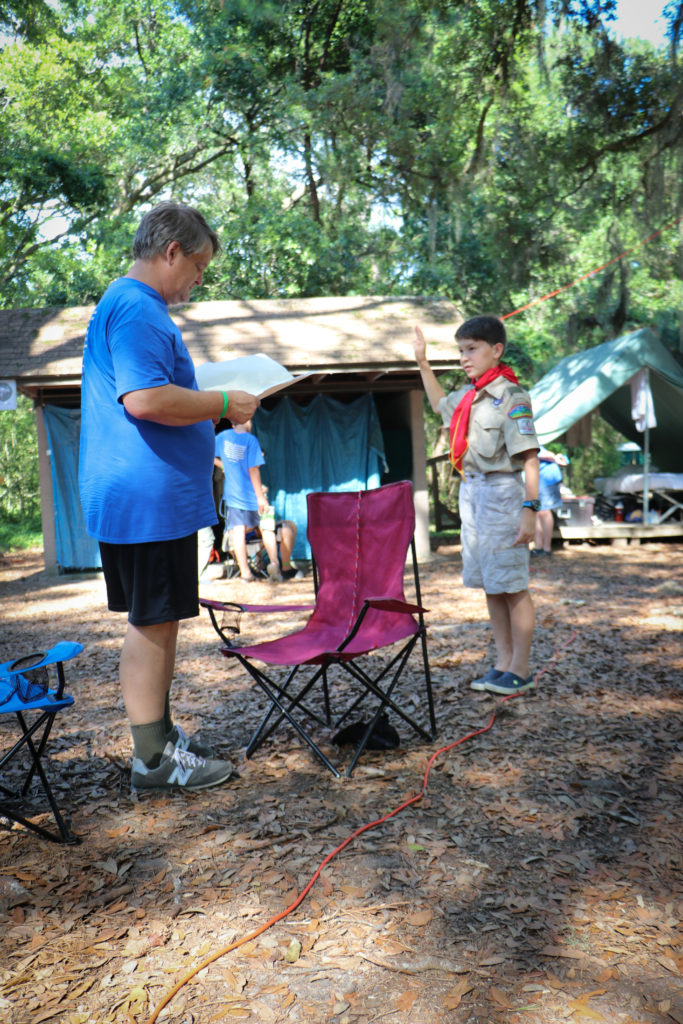 The best part of the day happened this afternoon.  I had my scoutmaster conference and my board of review, and I'M A TENDERFOOT NOW!!!!!!!!!!  I was a little scared, but Mr. Gage and Mr. Hill helped me a little when I got stuck.  I feel like a real Boy Scout now!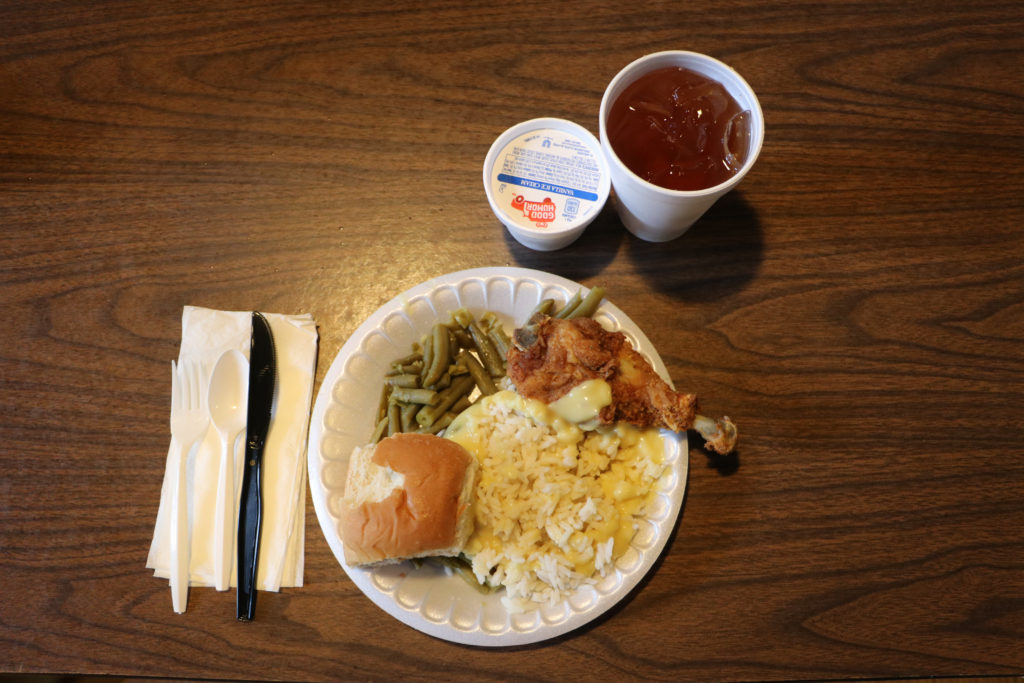 I went swimming during the afternoon and played a lot of frisbee around camp, and then we went to supper. We didn't have to wear uniforms tonight and we didn't even have to sit at our regular tables!  I made the mistake of sitting in a new place that was right under an air-conditioner vent.  I got "rained on" all during the meal, but that was ok.  We had fried chicken, green beans, rice and gravy, a roll, and ice cream!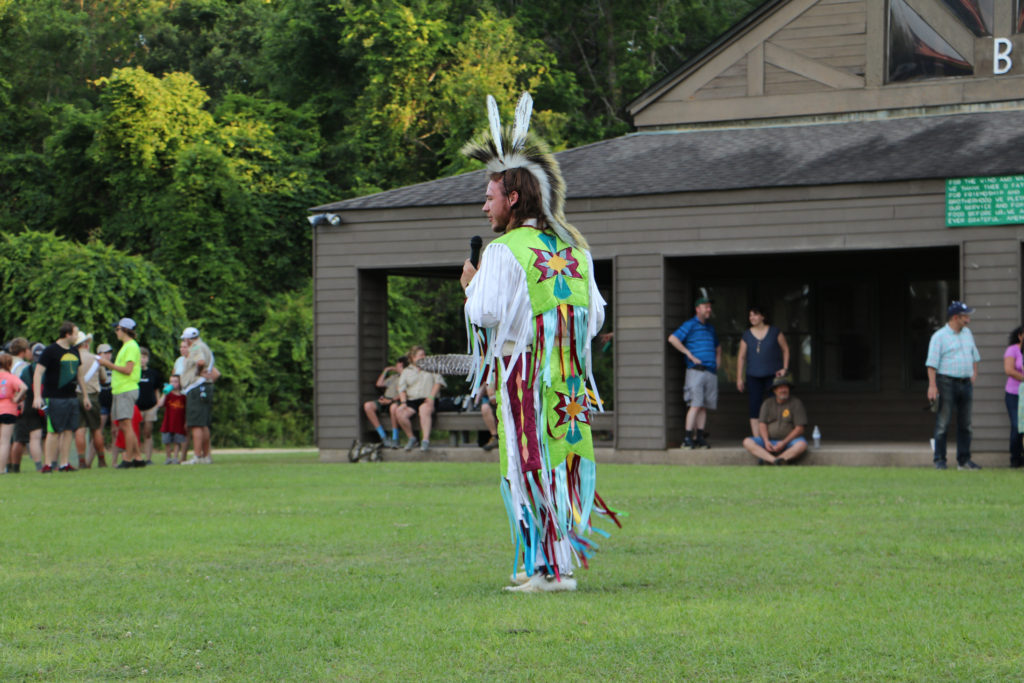 After supper, we put on our Class A uniforms and went to watch the Order of the Arrow people do Indian dances and play the drums.  Then it was time for the big campfire.  Lots of Troop 1 boys were "tapped" for Order of the Arrow.  It was a really cool ceremony with lots of fancy costumes.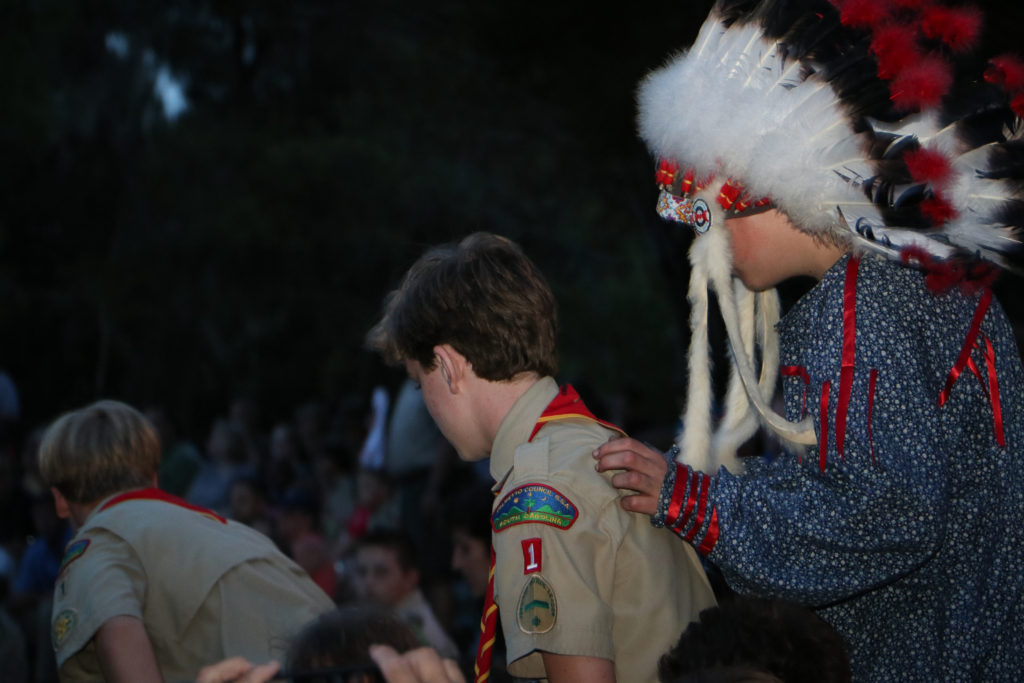 A few parents came down to see their sons in the ceremony, and they came back to the campsite for a little while to visit with us.
It's getting really late, so I should probably go to bed.  I have to go to swimming and woodworking classes tomorrow, but I'm done with everything else.  The older boys play the Ho Non Wah counselors tomorrow night, and we are going to WIN again!
I love you both,
Your son