Dear Mom and Dad,
Is it too early to sign me up for camp next year? We are having the best time and learning so much about the outdoors, hiking in the woods, poison ivy (I don't itch anymore), and knives in our Woodsman class. Once I earn my Tote and Chit card, I'll be able to have my own knife at camp and everywhere else!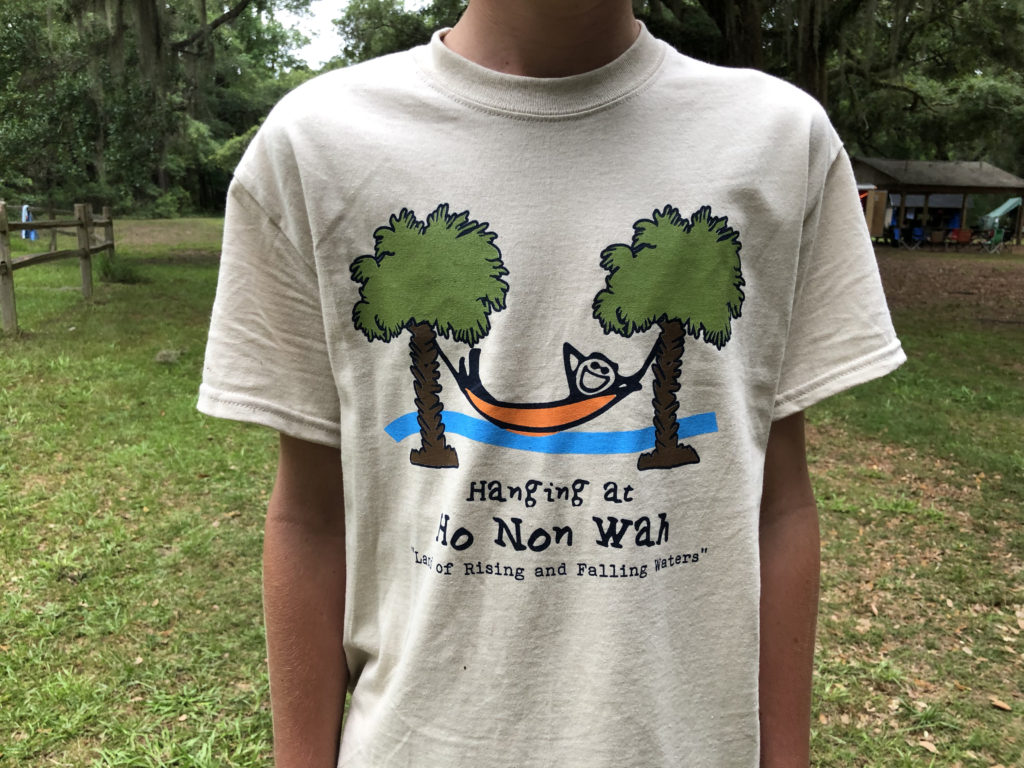 I think I like the t-shirts today even more than yesterday… and I also think I'd like to save my money from mowing the grass so that I can get an ENO hammock!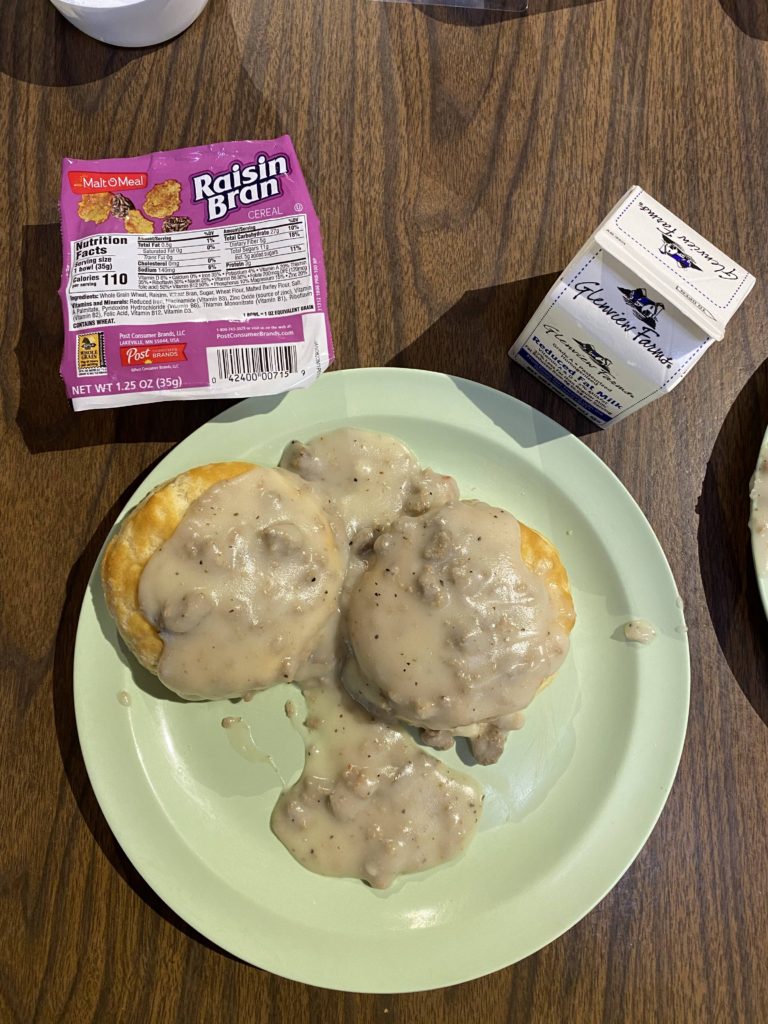 Breakfast was really good today. It sort of looked like somebody got sick to their stomach over my biscuits… but it was almost as good as Bojangles! I let somebody else at my table eat the Apple Jacks, so I got the Raisin Bran. I promised you that I would eat fruits and vegetables at camp. I had apples in my Apple Jacks and raisins in my Raisin Bran, so I'm hoping you are proud of me.
I heard the Scoutmasters talking last night, and they were telling stories about finding some of the older scouts out skipping their classes. They said some would take their hammocks down around a lake on the edge of camp and hang out in the trees. They would others find wandering around camp. Mr. Satterfield said that he found one on the roof of the trading post throwing a frisbee! I am never skipping classes!
Every night before dinner we stand in line on the parade ground and they take the flags down. Mr. Satterfield likes to inspect the scouts to make sure we all have on our Class A's. Well, tonight McLean forgot his belt. Mr. Satterfield asked McLean if he ever saw his grandfather without a belt on, and McLean said he's never seen his grandfather without a suit or sport coat on! McLean's grandfather must be a sharp dresser.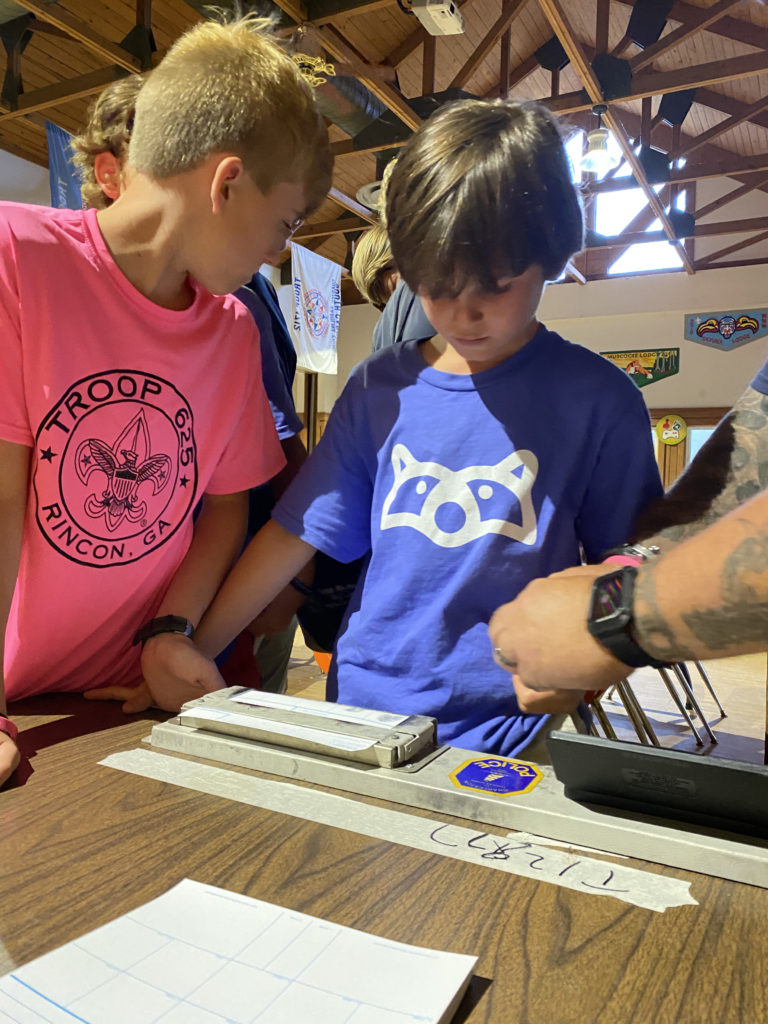 After supper, I earned my very first merit badge…Fingerprinting! All I had to do was put ink on my thumb and roll it across some paper. Boy, i sure am hoping I don't have to do that again after hearing the detective talk about why they fingerprint people. Usually, they have done something pretty bad. Do you think Mr, Satterfield fingerprinted that scout that was throwing a frisbee off the roof of the Trading Post?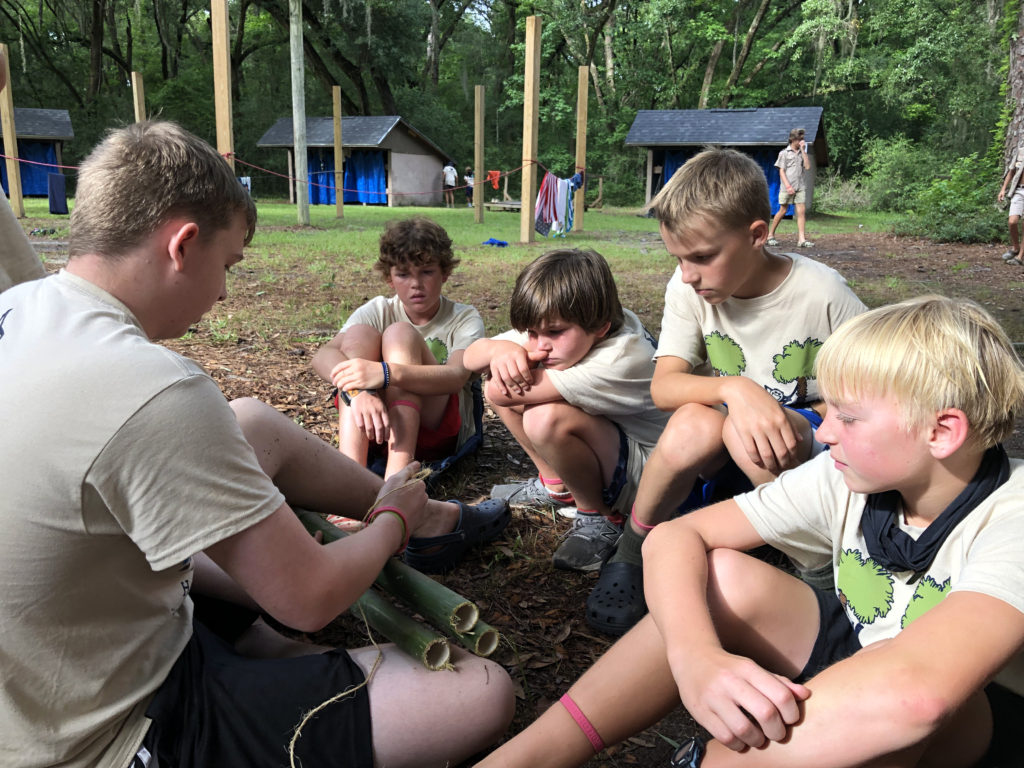 We also had Sports Night tonight. That seems to be all that the older scouts have talked about since we got on the bus at Church and now I know why. I heard our scouts have never lost a game down here, and tonight we won the basketball tournament and Ultimate Frisbee. Champions again!! And you know what the really cool thing is? Some of my first year friends got to play and even scored! We are going to be the most dominating first year group ever.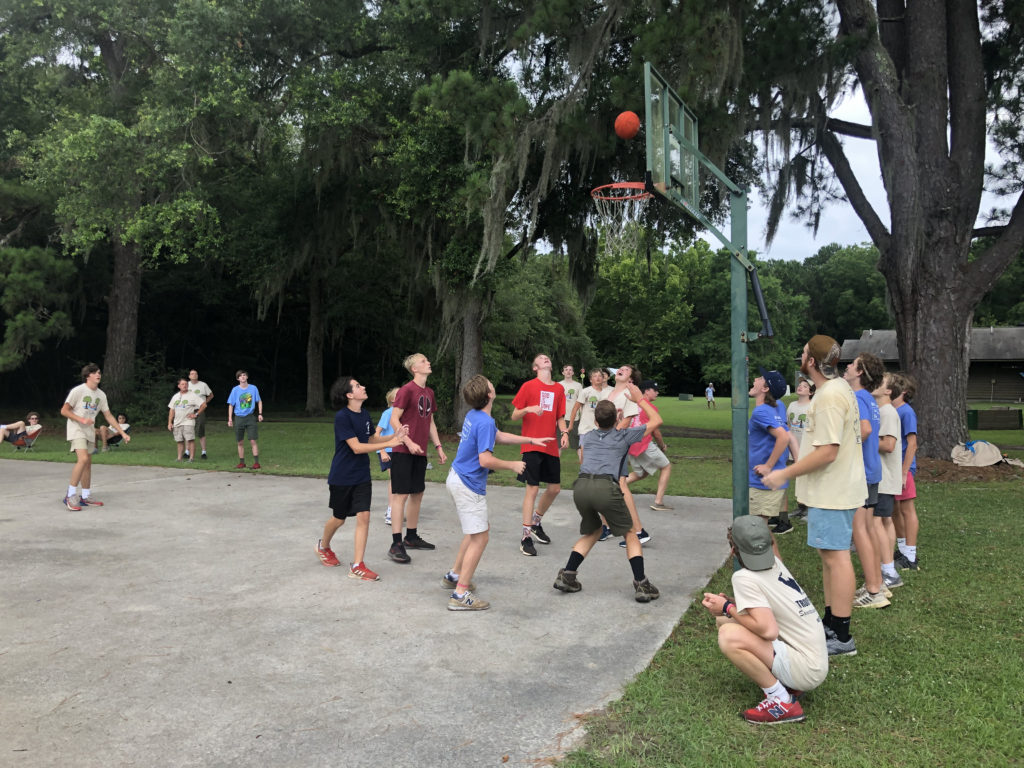 Some of the scouts got fussed at by Mr. Gage before the games. You know how some of us athletes like to tear the sleeves off our shirts to show our muscles? Well, Mr. Gage does not play that game! He said that they were acting just like some old scouts from Troop 1 named Jackson and Banks. I don't think my fellow scouts will be tearing their new camp shirts up any more, muscles or no muscles!
You would think after such a busy day that it would be quiet around New Shirmer tonight. Well let me tell you……IT'S NOT!  I think everyone is super excited about being the best scout troop at Ho Non Wah and I am glad I am on their team.
Tomorrow, all the Woodsmen are taking a five-mile hike to the Charleston Tea Plantation. They keep telling us to drink lots and lots of water so we do. We have 3 coolers in our camp and the Scoutmasters keep them full of Gatorade and lemonade and water.
I hate to say this to you Mom and Dad, but I am not missing home at all. Life with all my new friends keeps me busy and I haven't even thought once about Tik Tok and Instagramming on my phone.
Love,
Your almost-an-Eagle son