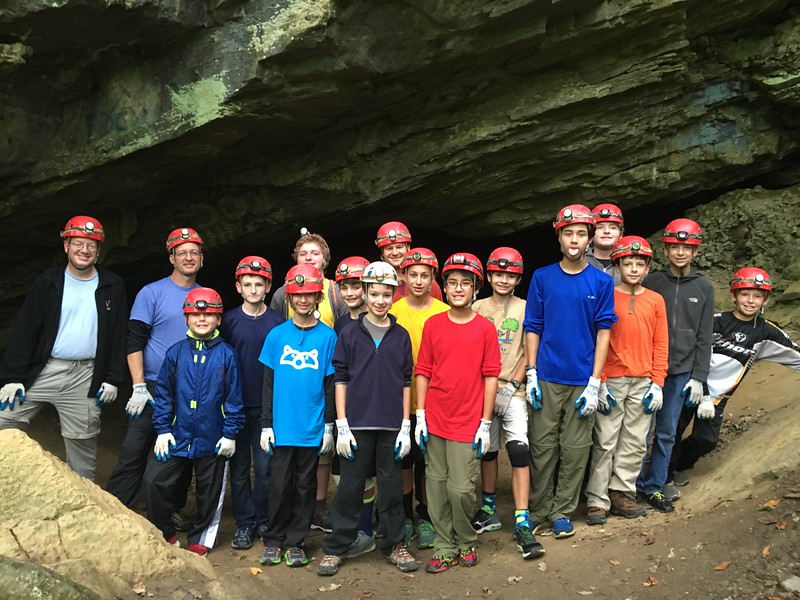 Biking the Virginia Creeper Trail – Spelunking in Worley's Cave
July 26-29, 2018
Troop 1 is headed to the mountains of Virginia and Tennessee for our second Super Summer Trip to Virginia and Tennessee where we will bike the mighty Virginia Creeper Rail Trail for 50 miles and then head to Bluff City, Tennessee for spelunking in the privately-owned Worley's Cave!  You will not want to miss this summer spectacular.
The Virginia Creeper Trail has been called the "Most Beautiful Rail-Trail in the USA". Check it out at http://www.vacreepertrail.com. The trail is 34 miles in length and we will be riding the 34 miles from the top starting at Whitetop Station after a shuttle ride up and then continuing to Abington and backtracking the 16 miles to our campsite in Damascus which will satisfy the 50-mile bike ride for the Cycling Merit Badge. Each Scout should also make sure they have enough water for the ride, either with bottles or better yet a Camelback. We will pass by our campsite in Damascus about lunch time where we will stop for a lunch break before continuing to Abington.  All riders are required to wear a helmet (furnished with a bike rental).
We will join up with our friends from Rock Dimensions of Boone, NC as our guides Saturday morning. Worley's Cave, also known as Morrell Cave, is located on private property in Eastern Tennessee. It is a large, undeveloped cave with numerous rooms, passages, and crawl spaces to explore. Worley's Cave also has some extraordinary formations, including flowstones, drapery and a "tombstone" area. Various routes winding through the cave involve large passages opening into bigger rooms with unique formations and areas to explore.
What to expect
Spend 3 – 4 hours inside the cave
Discuss cave formations (stalactites, stalagmites, soda straws, calcium flows, streams, etc.) and cave life (bats, salamanders, etc.)
Explore cave passages with a headlamp, candle, or just your eyes (to get a taste of true darkness)!
Experience the nocturnal beauty of a natural cave.  Compare the surroundings and experience with a commercial cave.
Protect the fragile cave environment.
Scouts will be responsible for supplying and preparing their own dinner Thursday night and breakfast and lunch on Friday. All the scout cooking equipment (grills, stoves, etc.) will be available for scouts to use. We will be car camping every night so you can plan accordingly. Beginning with dinner on Friday night the troop will supply the rest of the meals through Sunday lunch.  Scouts should make sure to have their mess kits or a plastic plate and utensils to eat with.  And of course, that ever-present water bottle! Watch out for a troop favorite during Saturday night dinner as we celebrate a great three nights together as a troop!!
We will meet at the scout hut at 1:30 PM to leave by 2:00 PM on Thursday in the church busses. We expect to return to Spartanburg about 4 pm on Sunday. The cost will be $145.00 per person to cover bike rental and shuttle bus to the top of the mountain, spelunking fees, camping accommodations, transportation, and all meals from Friday dinner – Sunday lunch.
Registration deadline is Sunday, July 15th.