Tuesday, June 12, 2018
9:38pm
Dear Mom and Dad,
It's been a really long day, and I'm just plain exhausted.  Being a boy scout is hard work!
I worked hard to clean my Adirondack before breakfast this morning so that I wouldn't be in such a hurry to get everything done after we ate.  Today's t-shirts say "Living on Wadmalaw Time."  Mr. Gage told me that it was "Time for me to take a shower" after he looked at me.  I'm not sure how he figured out that I hadn't had a shower since Saturday, but I finally had to get under the water.  Mr. Gage didn't say anything about soap or shampoo…
Breakfast was good.  We had sausage biscuits, and Shannon told me that those were his second-favorite thing to eat in the world.  He said his favorite thing is some type of sugary cake at a Mexican restaurant downtown.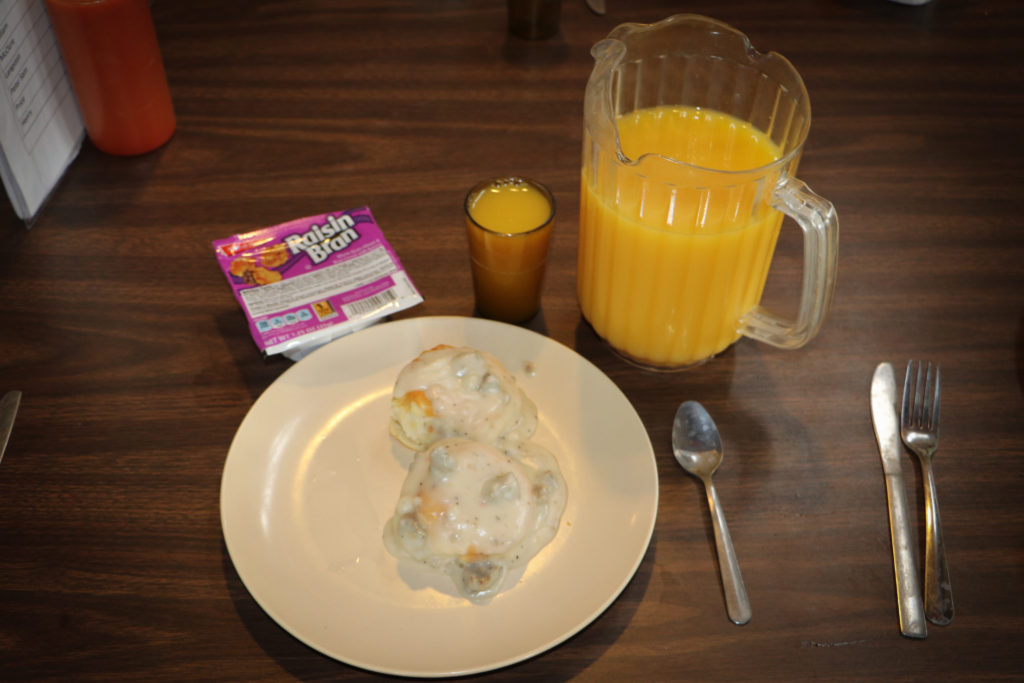 After breakfast, we sang the MILK song, and I had to make my hands into a cow udder that someone else had to milk.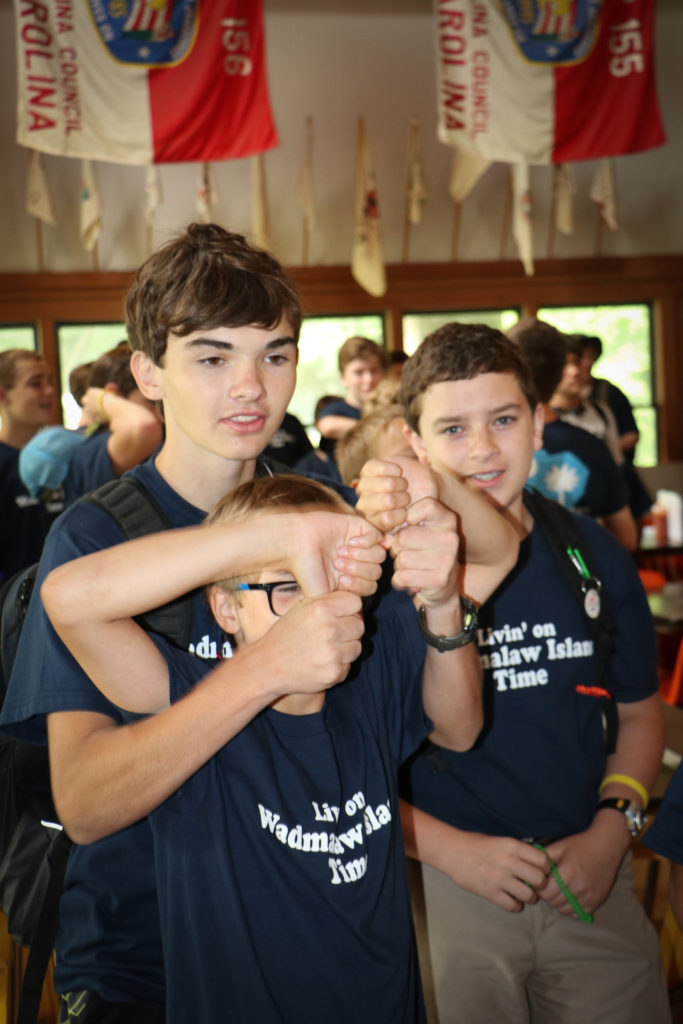 Our campsite must have looked a little cleaner today, because our inspection score went up to a 96.  Troop 2 won the commissioner's paddle because they had the highest score, but I heard that their scoutmaster was one of the inspectors!  That doesn't seem fair at all!  It's ok I guess, because we still have three more days to win.
I got to make a fire in Woodsman today.  My patrol was one of the only ones to actually get our fire going!  Oh – and I forgot to tell you my Woodsman Patrol name!  I'm in the Bionic Bacon patrol!
I also learned about using knives and axes today.  I'll have to show you how to make a blood circle when I get some so that you will know how to stay safe when you are chopping wood or carving something.
We're going to go on a five mile hike tomorrow to the Charleston Tea Plantation.  We'll eat lunch there, and we'll get to tour the place, too.  The only bad thing about the trip is that everyone back at camp gets pizza for lunch!
I've been good about using suntan lotion this week.  Mr. Montgomery always had a bottle of suntan lotion with him, and he made sure we were looking out for our skin.  The bad news is that he had to go home this morning!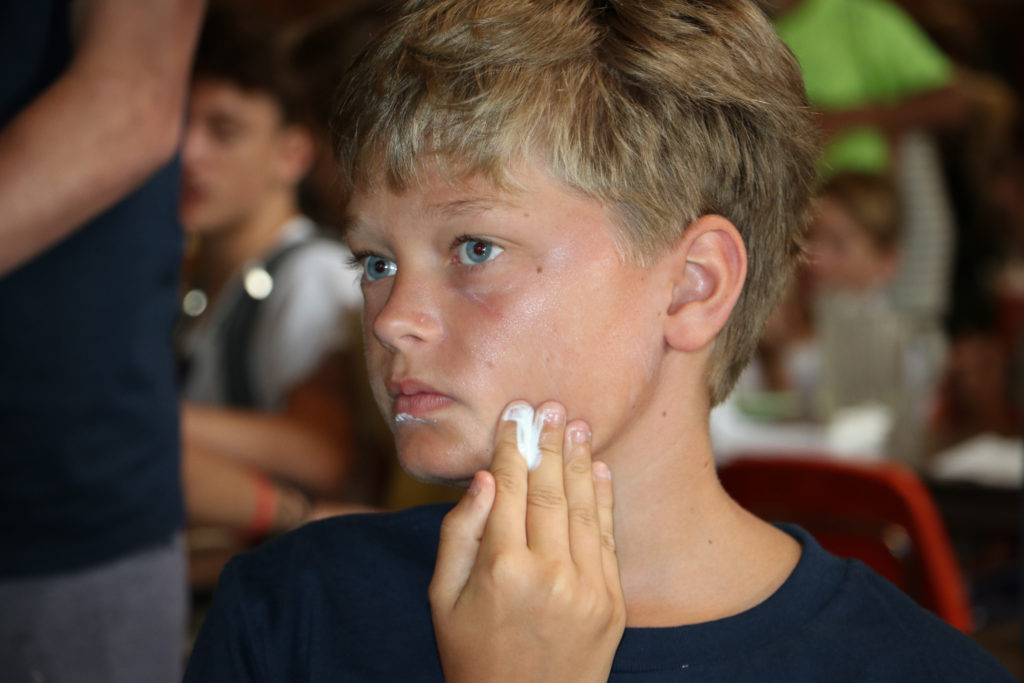 When I was walking around today, I saw Langston, Burd, and James shooting rifles.  Langston was the first one in the group to hit a skeet!  I want to try that in our back yard when I get back!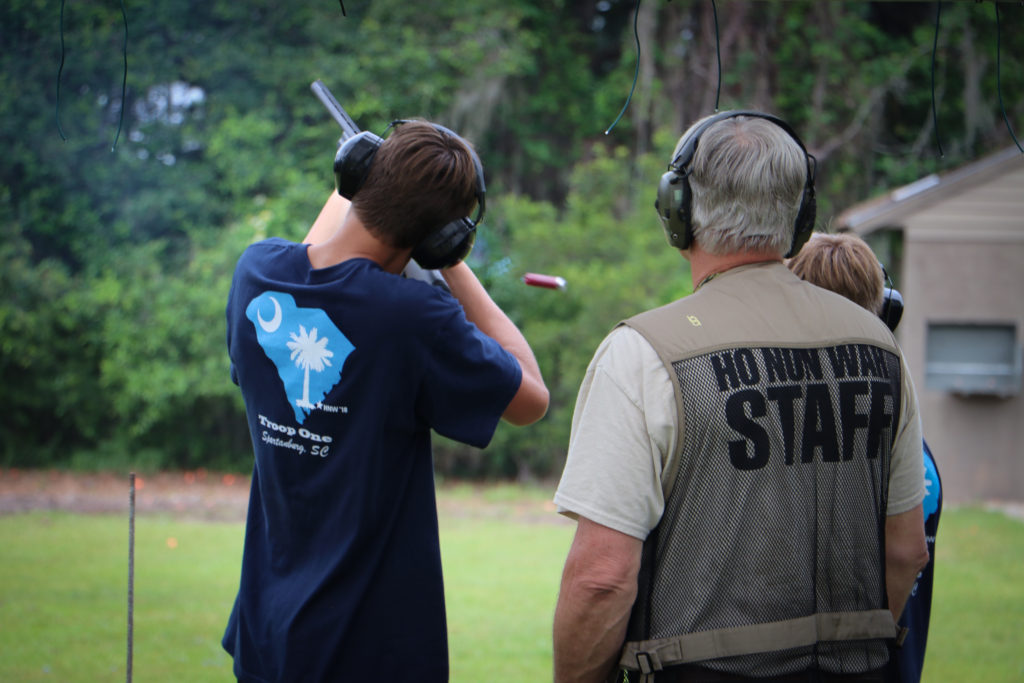 I heard that the older boys in Cooking merit badge made trail mix today and I think they cooked yogurt, too.  They are hoping to get to cook for real tomorrow!
We had hot dogs for lunch, and in the middle of the meal, lots of people started clapping together.  All the counselors surrounded Thomas and they sang happy birthday to him!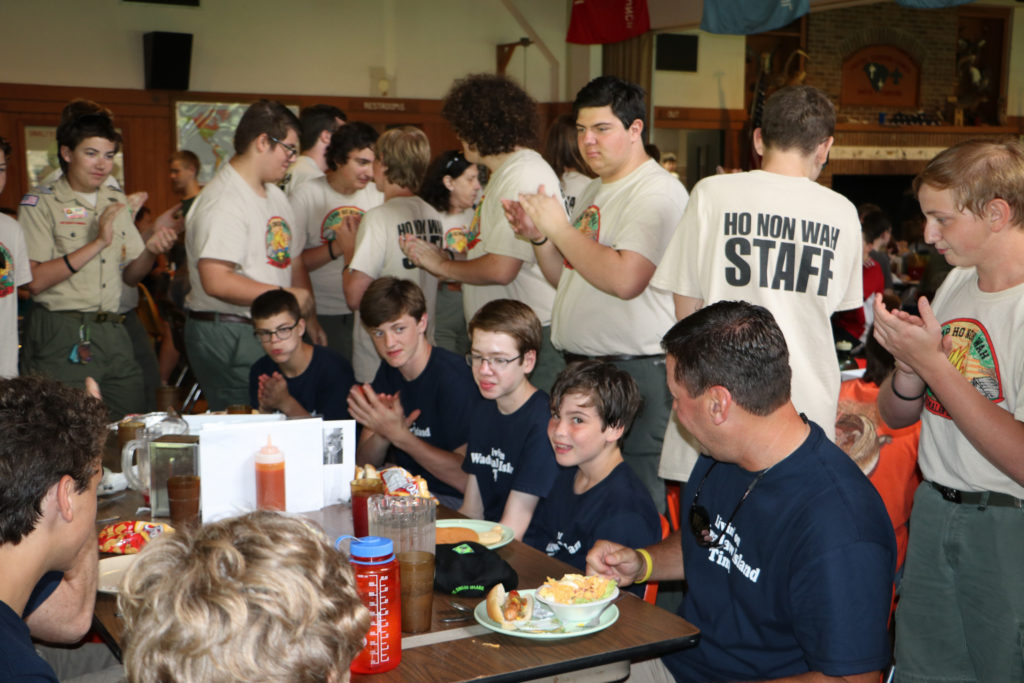 I got to raise the flag in Woodsman today!  Everybody will get a turn, but I sure was excited to go first!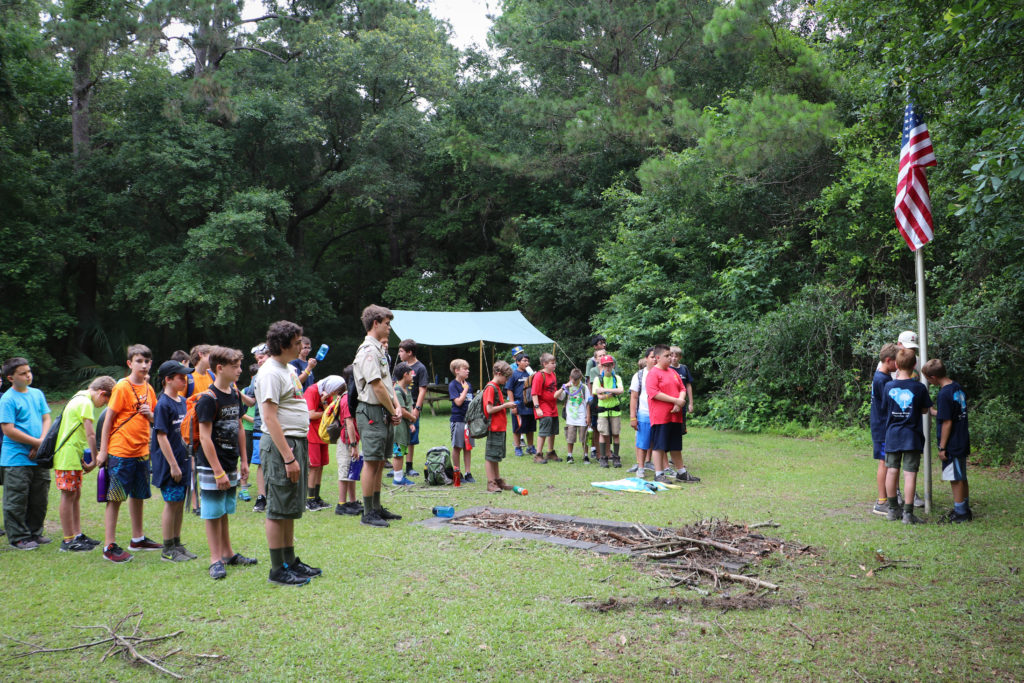 I didn't get to swim today because we had a little rain.  It's ok, because we'll get to make up our work on Friday.  Lots of us played cards in the campsite to pass the time since we couldn't walk around in the rain.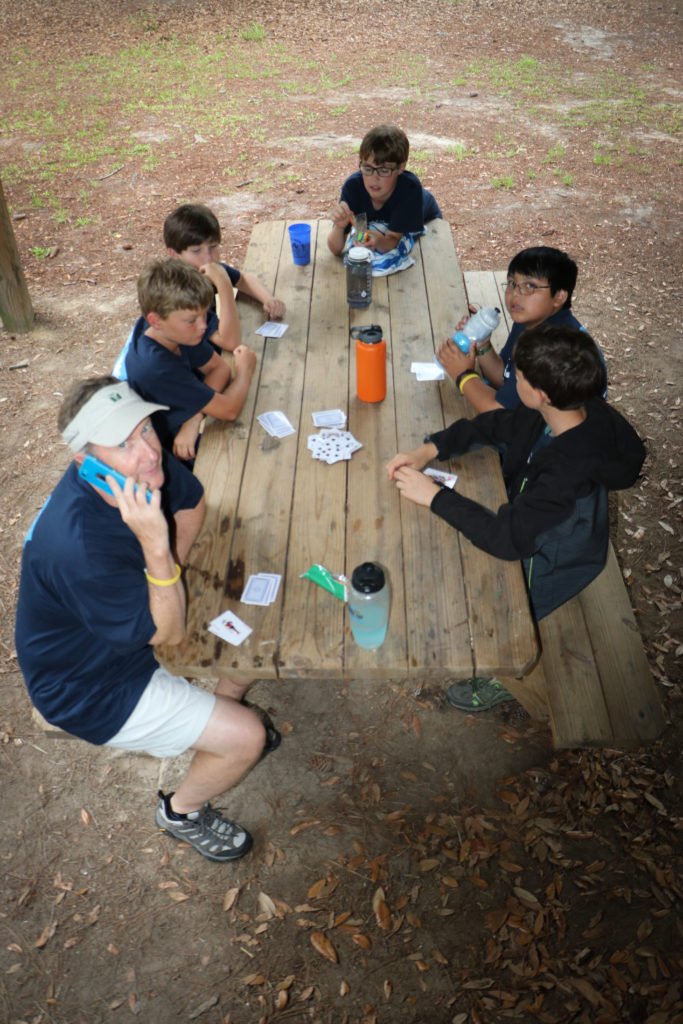 Supper was "ok" – but it wasn't my favorite.  We had chicken and rice, corn, a roll, and a cup cake.  If you look really closely at the picture I took, you can see one tiny piece of carrot and two peas in my chicken.  I guess that the government must require them to serve us at least three vegetables day.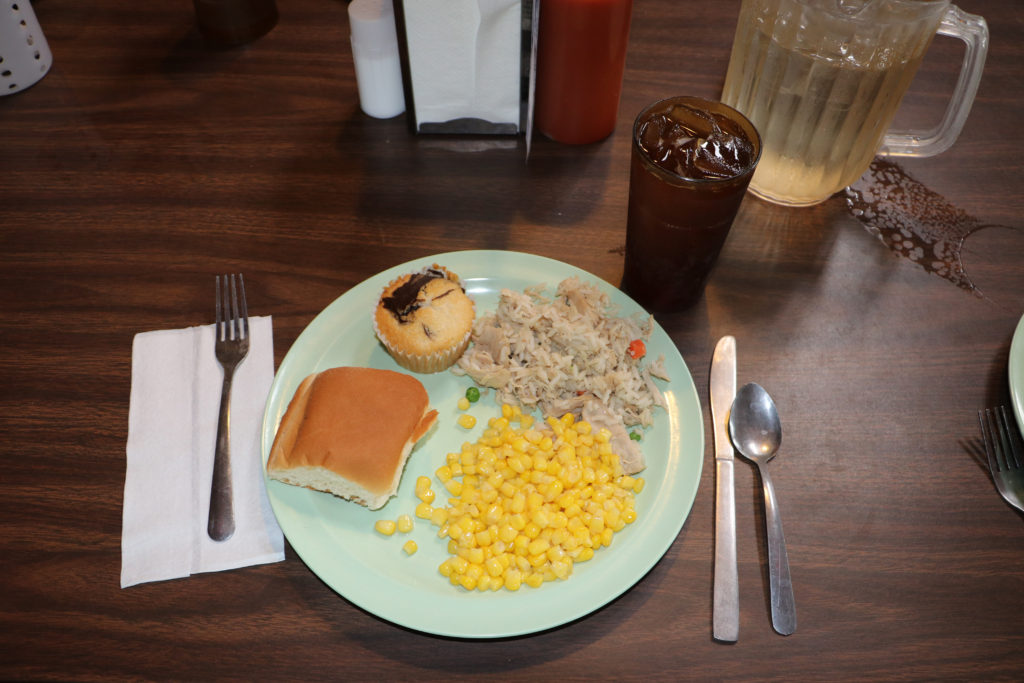 After supper, all the first-year scouts earned their fingerprinting merit badge, and then we had an ice cream social.  Right after that, we got to cheer for the older boys from Troop 1 during sports night.  Troop 1 beat all the other troops at camp in ultimate frisbee!  Our final game was against Troop 2!   Because we beat all the other teams, we get to play the counselors later this week!
We won our first basketball game, too, but the lights weren't working so we had to postpone the game with Troop 2 until tomorrow during our siesta.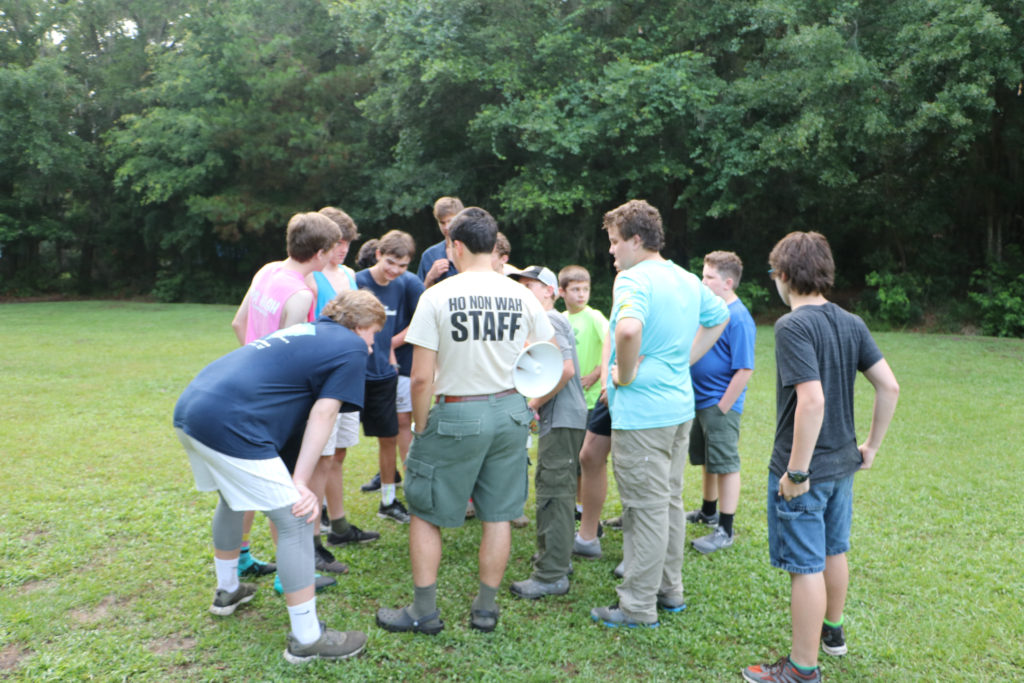 Mom and Dad, I've spent all the money you gave me.  There are so many things in the trading post that I think would make me a better Boy Scout, that I really thought it was best for me to buy them.  (They have some pretty good ice cream cones in there as well, and it does get really hot here.)  Do you think you could send me some more money?  Mr. Gage told me that FedEx delivers to camp.
I'm going to bed now.  I'll need all my energy for the hike tomorrow.
I love you both.  Please give Buddy and Rex an extra treat for me.
Goodnight,
Your son
P.S. – Fort was supposed to get here today, but I heard he is still sick in Spartanburg.  If you see him or his parents, could you please tell them that everybody misses him?