Dear Mom and Dad,
Would you believe I slept in a hammock all night last night? Well, I did and it was great.
After a great first day yesterday I wasn't sure things could get any better. But today I got to do so much cool stuff! We woke up at the crack of dawn to get ready for our morning swim … we started out with just a few laps but by Friday we are going to swim a whole mile, non-stop. I thought the water would be cold that early in the morning, but it is so hot here that it barely felt different than standing next to the pool!
Once we finished our swim we dried off and headed over to the morning flag ceremony, where I said grace for the whole camp. Then we had French toast with sausage links – did you know that sausage links dipped in maple syrup taste amazing?
After breakfast I went to work on my Woodsman merit badge. I practiced three new knots, learned what poison ivy looks like, and learned how to use a hatchet to bust up kindle wood, which we DEFINITELY did not need in this heat. They also told us all about how to prevent and treat sunburn, but you don't have to worry about that because I have been putting on sunscreen every hour of the day! I met other first years from different troops that are here too – we all paid complete attention to the camp staff teaching us the entire time, even when those knots were really tricky!
Next up was swimming. Even though we did the morning swim, this part was for our swimming merit badge. We practiced different strokes and learned how to do the Dead Man's Float, which is sort of a funny name for a thing that is supposed to keep you alive if you're stuck out in the water without a lifejacket … which will never happen to me, because I will always Be Prepared like a good scout should be!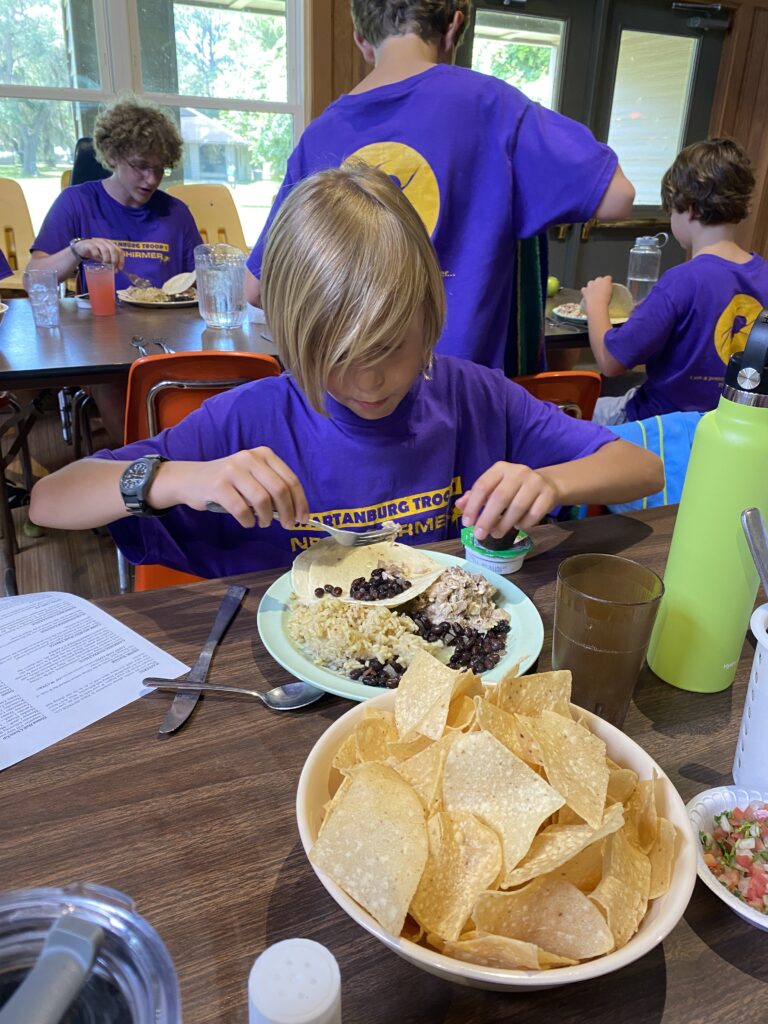 After lunch I went to leatherworking class where I learned all about tools and tanning and techniques for making cool stuff with leather. I started on a project that I will bring home at the end of camp – I can't wait to show it to you once it is finished!
Finally, after all that merit badge work, we got to relax a little bit at our campsite. And by "relax" I mean throw frisbee, play gagaball, and do some silly practical jokes on our troopmates. Oh, and drink some lukewarm YooHoos that one of the older scouts sold me for a great price!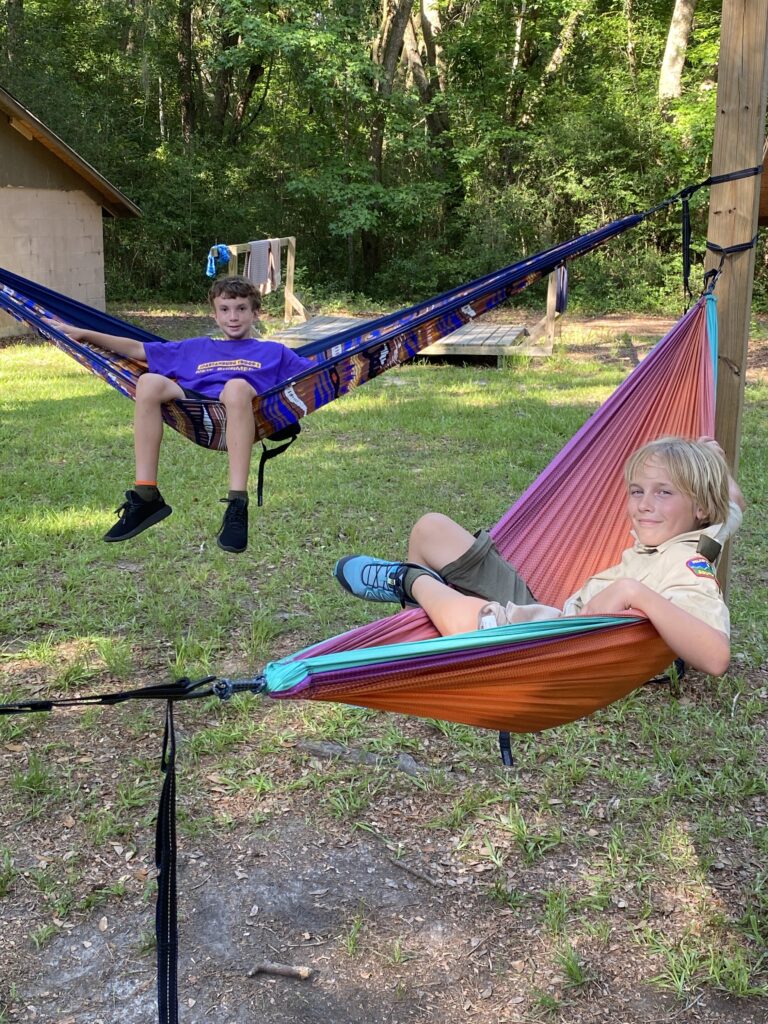 You will not believe what we ate for dinner … chicken nuggets! I thought camp food wasn't gonna be that great, but I ate every bit of my supper tonight. After dinner we played a huge game of capture the flag. I thought I had seen every bit of Ho Non Wah, but there was even more out there that we ran around on! The camp staff was super fast, so it was really hard to win but a few of the campers managed to make it back to base before it was all over.
Some of the older scouts went and played an ultimate frisbee scrimmage with Troop 2 tonight, and I'm a little nervous about it. Our scoutmasters say we need to be ready to do our very best – I sure hope we can pull through!
Now the sun is finally starting to go down and it is just a tiny bit cooler than it was this afternoon. I can't believe I'm saying this, but I might actually try to go to sleep a little earlier than I did last night. We sure did go hard today! But don't worry, I'm drinking even more water than I am spraying sunscreen, so I won't wear out in this heat. I hear it is pretty hot up in Spartanburg too – please be sure Fido gets plenty of water while he plays outside this week. And maybe give him a little treat for me.
Thanks again for sending me on such a great adventure here at scout camp!
Love,
Your soon-to-be Eagle scout